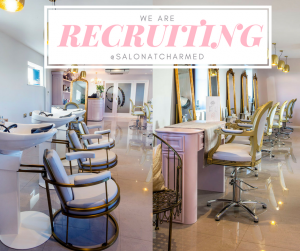 We have a couple of really exciting opportunities here at Salon@! Our team are currently looking for an extra Hairstylist to join us in our b-e-a-utiful salon.
Since opening our doors in November, our client base has grown extensively and our name has spread – both more quickly than anticipated, which means we are now looking for a couple of new members to join us on our adventure. Both the Beauty Therapist and Hairstylist position will be on a self employed chair rent basis, starting as part time with the option of moving to full time if desired. Our chair rent rates are incredibly competitive for the location we are in. Based inside the family-run shop, Charmed Interiors, we have onsite parking available for staff and clients, a fantastic interiors shop full of home furnishings and gifts along with a quaint tearoom offering hot and cold food. Our clients love that they're able to have a browse in the shop if they're running early, or meet their friend for a spot of lunch once they've been pampered. Having everything under one roof is a fantastic selling point for our salon – some clients are even known to have spent all day under Charmed Interiors' roof
In Salon@ we offer all hair services, nail services and a variety of beauty treatments. Why go to a hairdressers, nail bar and then a beauty salon when you can have the whole shebang all in the same place, here at Salon@! Our versatility in services creates a fantastic vibe in the salon, between both clients and staff members. We aim to offer a luxurious experience at an affordable price, and it's imperative our salon is always welcoming!
Are you a Beauty Therapist or Hairstylist thinking this might be the salon for you? We really have a great team here, and would love the new additions joining us to be dynamic, team players and most importantly, love what they do. For more information, please email Lily on lily@charmed-interiors.co.uk or call Lily on 01366 321417. A minimum of 2 years salon experience and NVQ 2 necessary. An existing client base is preferred.